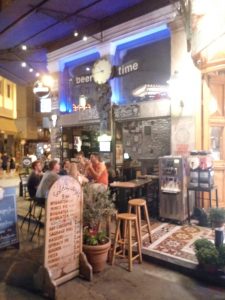 First found in February 2012 and visited most recently in July 2017, this is Our Local in Athena. Platia Iroon 1, (Psirri, Monastiraki, Athens 15565)  is easily found and sits in the corner of a Small Square. The wide open frontage makes the smokers less of an issue. The Tables downstairs are supplemented by the upstairs balcony. A Basement has also been seen in use during our winter visits.  With a dozen Biers on Draught including Septem, Hector's favourite Greek Brewery, and a range of German Bier and World Beers, there is something for everyone, surely.

Mein Host
One evening, Thanasis, Mein Host came in to work especially to have his photo taken with Hector, the original version of this page having made an impact.  In 2017, this was updated.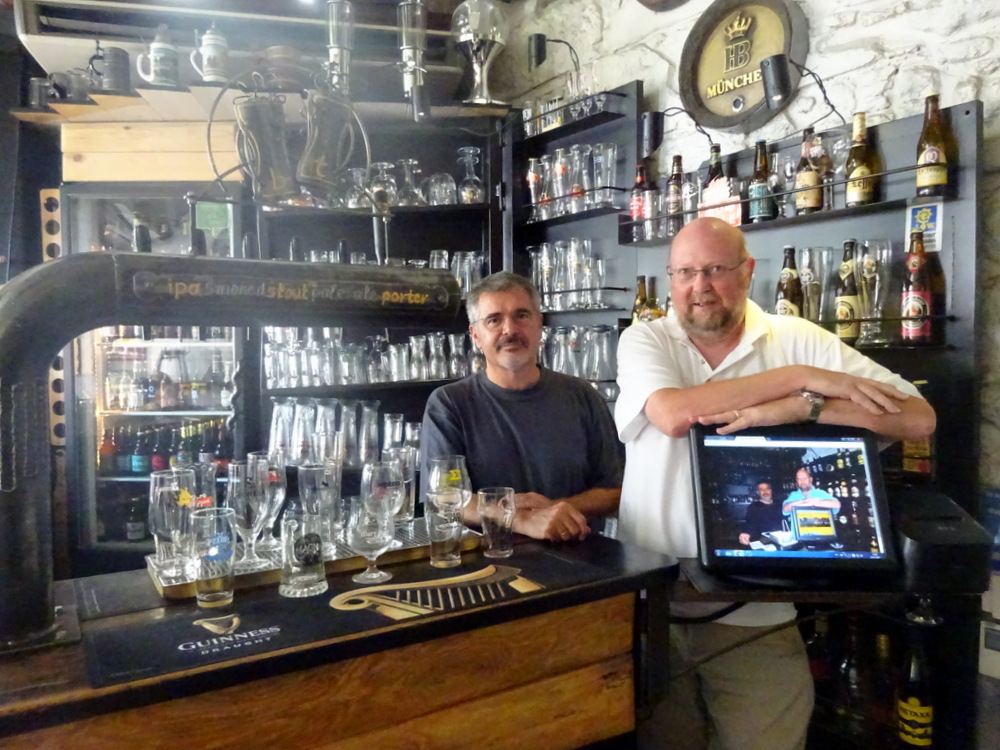 February 2014 – Elena – The New Waitress
This was a memorable night, in charge for the first time. The Lady has stuck with it.
The Happy Hour
The Happy Hour used to extend for the best part of early evening, this has now been restricted to the first hour after opening time.  Buy One get another Free on Draught Bier only.

Food and Snacks
Chara, The Chef, has been there for years, although she speaks no English, she is a delight, and gives us a warm welcome on every visit. Even if one orders no Food, Nibbles arrive at the table.
Chrisitina has been at Beer Time for nearly three years also
For Hector, Deutsche Bier was the original attraction. In February 2015, Septem Citra was introduced, then in 2016, the truly magnificnet Septem 8th Day (Mera) which in 2017 is available on draught.

What has happend to the Bier from Kloster Andechs?
Although Coffee is not sold at Beer Time, they are happy to fetch some from next door.