Shahpura House (D 257 Devi Marg, Bani Park, Jaipur, Rajahstan, 302016, India) is located in Bani Park in the north west of Jaipur, just over a kilometre from the main railway station.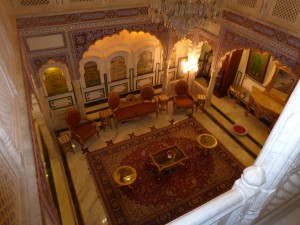 The entrance to Shahpura House is modest, a bit tight. One then has to negotiate a devious route before the Splendour of the Hotel is revealed. Sumptuous Lounges await, the Decor is striking.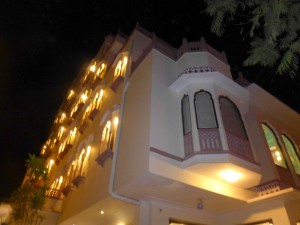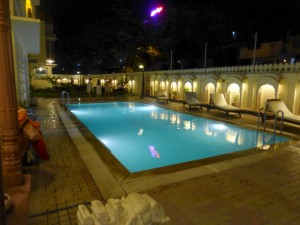 The ground floor Restaurant and Breakfast Room overlooks the Gardens and Pool. The Pool is small, good for a dip, but not for a swim.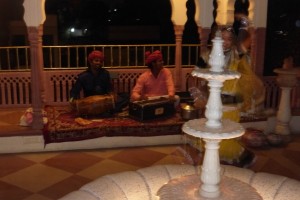 There is also a Roof Garden where Live Music may feature. The Quality of the Buffet served here is above the norm. The Bar is tiny, seats at the Bar is all that is provided. Prices for Drinks are inflated as they tend to be in the more Luxurious Indian Hotels. Beware of being charged over £30.00 for a bottle of domestic wine.
The rooms contain universal adaptors in some sockets, tea and coffee facilities are provided. Wi-fi is free. The Television was housed in a side room in our allocated accommodation and was therefore not visible from the sleeping area. The TV worked for only ten minutes during our visit, it must be centrally controlled from Reception.
The Washroom had no bath, however, the rectangular shower head provided a great water flow, a style to look out for.