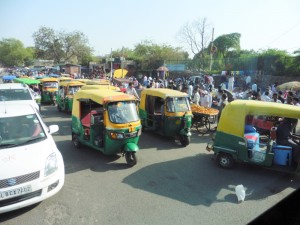 The wake up call at 07.00 confirmed our UK Guide's comment – This is not a holiday but more of a trek. The itinerary is designed to maximise the number of possible sites/sights visited. Four major attractions awaited us today, without our private Bus, Driver – Narendra, his assistant – Raj, our Local Guide – Bhupi, and our Tour Company Guide – Rosemary, we would have taken twice, even three times as long to cover these.
Hector has decided not to have Indian Food for Breakfast until such times the stomach proves all is well. Fresh Fruit, Yoghurt and Eggs were considered safe. Salads et al that may have been washed in tap water were avoided. After contact with – anything – antibacterial hand gel was employed.

Departing from the Maidens Hotel at 08.00 we started to recognise some of the routes, past Old Delhi, the India Gate towards our first stop of the day – Qutab Minar. We knew nothing of this, to say we were impressed was an understatement, this Minaret and accompanying Ruins. To get the light we had to go beyond the equally impressive Gate. A Security Chap was happy to show us – The Perfect Spot – for photos, and was happy to take the two of us together, for a gratuity, of course.
Everyone back on the bus…
Humayun's Tomb was next. It didn't take much wit to appreciate the significance of this building. Based on the Islamic Architectural – Four – this was the building that inspired the Taj Mahal at Agra. By this time we were recognising our Group Members and slowly starting to ask names. This also established that we could ask folk to take Couples' Photos.
The Government Buildings were driven past, twice, so that Photo Opperchancities were given to those sitting on each side of the Bus. We were not permitted to stop, Indian Security. The India Gate was passed again, now we were informed that this is a Memorial to the Fallen in WW1. Again, this was a drive past.
Lunch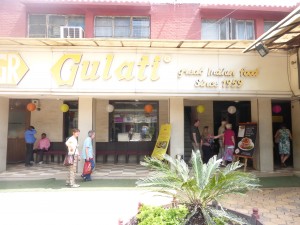 Breakfast was a long time ago, Dinner would be a while, Hector had worked up an appetite, but what was on the agenda? Lunch stops were expected, Hector did not know that he would be presented with a choice of Restaurants, it was time for Hector's first a la carte Indian Curry, in India. The visit to the Gulati Restaurant is covered on Curry-Heute.com.
Sikh Temples are famous throughout the world for feeding all those who turn up at the kitchen. It felt somewhat ironic that having just paid out for Lunch, we were then taken to the Bangla Sahib Gurudwara, the largest Sikh Temple in New Dehli.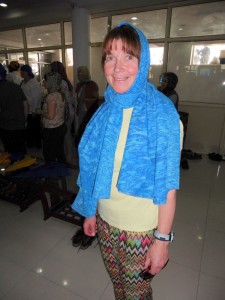 We were marched past the Hawkers and taken to an anteroom to prepare our clothing. We had been advised that shorts were not permitted, everyone but Hector was wearing long trousers or skirts. Out came the Longs, in this heat. Today it was in the high 30s°C. Appropriate Headgear had to be adorned, yesterday it was Hector in a skirt, today, the Ageing Rock Star.

Feet had to be bathed on entry, the stone slabs were super hot in the sunshine. Music was being blasted loudly, as we entered the Temple we found The Source. Three Chaps were performing adjacent to the area which was the focus of prayer. There was some serious praying by people of all ages.
Gold, lots of Gold. An obscene amount of Gold adorned the walls, and no photos permitted. The Hector inside such a building comes as a surprise. I prefer the External Architecture of such constructions, the Interiors hold little attraction, I find no meaning to what takes place therein. However, as the exit was far from the entrance, one had to stay with the Group. The surrounding waters purport to have healing properties, so it goes.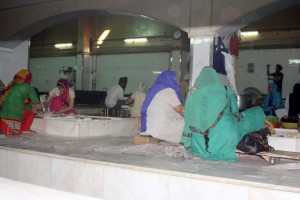 As we walked towards the Dining Room and Kitchen, the scale of how many were being fed became apparent. Huge Room was four fifths full, we were invited to join the line.  Anyone, Everyone is welcome to eat, the Food is given, for free. Benefactors pay for the Food. An army of women give of their time to prepare the Food, Chaps distribute it without comment or prejudice. This will be lasting memory of this Trip, and I didn't get to sample the Daal and Chapattis on offer.
In addition to this is a queue for Food to take into the Temple, Marg must have been hungry…
Another view of the India Gate and we took a side street. The Agrasen Ki Baoli Stepwell was our final stop of the day. A step well? One should read Websites like this and be better advised as to what one has signed up for.

Behind a wall, a few metres from the Bus we encountered a few steps, a step well?  Then, behold! I could never have imagined this.  The thought of Hector going down to the water's edge and back up these stairs was cast aside. Marg descended, forgot to turn around for a photo, and climbed back up. She may have been concerned about the proximity of bats. That was Marg's exercise for the day, Hector's would be later.
A Quiet Night Inn
One of our Group, Adrian had gone exploring around the Maidens Hotel on arrival yesterday. There was a Bar, 1Up, a few hundred metres away. Half of The Group went for Bier at an affordable price as soon as we returned to the Hotel. Not Hector, he was going swimming, in t'pool.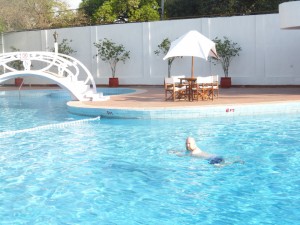 The sun was about thirty minutes from the horizon when I jumped into the, far too cold for me, water. Marg insisted I would acclimatise. Five minutes later I was out in the warmth. As soon as the sun disappeared, indoors, a snooze.
The Curzon Room's a la carte Menu had to be tried. We had Pasta in mind. The Maitre d' had other ideas. As ever, Curry-Heute covers the Food.
By the time we left the Hotel for 1Up, everyone else was back. Undaunted, Hector would have his Bier, Kingfisher again. Marg had Baileys, again no ice. Why they thought that Techno-Musik was appropriate who knows.
The Itinerary for tomorrow had been put under our door, a seven hour journey to Jaipur? Time for bed.
The Hotel and Bar visited today:
1Up